Earning from Data,
Engagement, Introduction
Your data is yours, it is your asset. Earn from it!
When you own a flat, you can rent it.
Here you own your data, and you make people to pay for using it.
VALUE OF DATA
The value of your data depends on your buying power.
Imagine, you are an advertiser, how much would you pay to reach yourself? Well, it depends. That's correct. It depends on reaching you for what. To make you having dinner at a restaurant? Or to make you buying a life insurance? And also depends on where. To buy something in UK or to buy something in Brazil. In other words, the ability to reach you has a value depending on your interests, your needs, your age, your salary, your network and more. This means, the more data you allow to collect about yourself the more valuable you are as they can better target you. We make you to control data collection and to earn from it!
MONETIZING DATA
The ability to monetize your data depends on how much you care.
We do not earn money without you to earn, since we receive a revenue share from your income. Therefore it is in our best interest to enable you to earn as much money as possible. The more your earn, the more we earn. And since revenues are shared with so many value contributors, they also earn, and they also make you to earn more. However, it is up to you. It depends on how much you care. We will not push you. But we will assist you when needed. How much you can earn depends on the quality and density of your data and how much you engage with brands who want to sell their products and how many people you bring to the ecosystem.
IS IT ETHICAL?
Is it ethical to sell my data?
Thats a good question. But the answer is yes. It is ethical. It's a fact that data became valuable. And the value increases year by year. Just look at the value of the large Internet companies. We just make you personally to do the same. So it is up to you whether you want to earn from your data or not. We respect your decision. For earning, we simply do what all large Internet companies do. We collect as much data as possible to make you as valuable as possible. The difference is, we do it under your control, with full data insight, with your power to delete, with your decision how to monetize. We believe this is ethical. Highly ethical.
IS IT CORRECT?
Can I be sure to earn correctly?
The price that you see, is the amount that you receive. We show the price that you earn as part of the revenue share. There are no deductions made. And you can control it yourself. Check out any sponsoring or advertising. Note which price is offered. Click on the advertising or sponsor. You will immediately receive a notification on the amount earned. Then check out your wallet. You will see that the amount has increased. Check out 'Transactions'. There you find the click you have made listed as transaction. It added the same amount as shown in the advertising/sponsoring. Please note that clicks are only counted once per 24 hours.
Advertising
When you open a profile related to an advertisement, or when you like, share or comment the advertisement, you engage with the advertising brand. This has a value. The value depends on how much the brand is willing to pay to target and reach you personally based on the available data in your profile. 
In settings, enable advertising.

You may enable certain type of advertising.

By enable advertising to agree to be targeted.

Through targeting nobody receives your data.

That advertiser can bid whatever price.

It is your choice to click or not.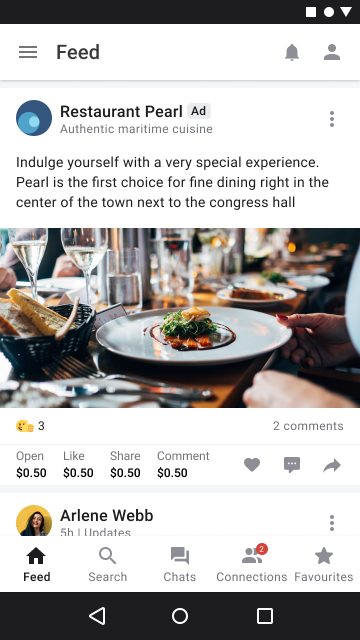 Sponsoring
We enable you to add sponsors to earn income from content. You will receive sponsoring requests of brands. You can accept them or reject them. Only sponsors that have been accepted by you will be added to your posts or other content. This allows you to exclude sponsors that might conflict your ideals or existing agreements.
In settings, enable sponsoring, and accept sponsor requests.

Sponsoring is targeting your viewers who also earn per click.

Through targeting nobody has access to personal data.

Those sponsors with the highest bid are added to content.

The content creator receives the main revenue share.

The user tho clicks receives the influencer revenue share.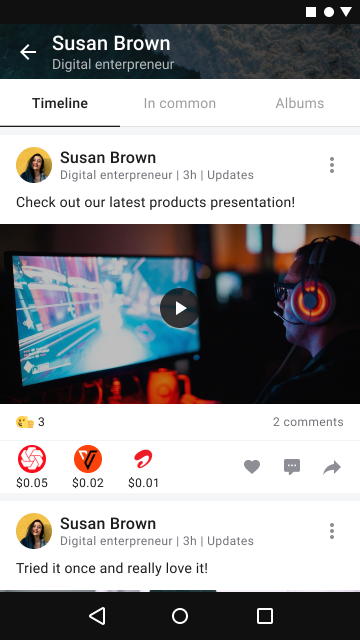 Introductions
Everyone who joins the ecosystem joins because of an effort of someone. It's an effort to make the ecosystem known. We believe it is fair to compensate this effort by awarding such person or organization a lifetime revenue share of the introduced person. It is taken from the net income of the community joined and QENDI.
Use 'Tell a Friend' in the menu of the app to invite.

Use the QR code that you find when login in to qendi.me.

Use the link you find on qendi.me for your digital actions.

Use the widget on qendi.me to build in in your website.

Receive 0.1% revenue share on future earnings/spendings.

The percentage is not high, but amounts sum up over time.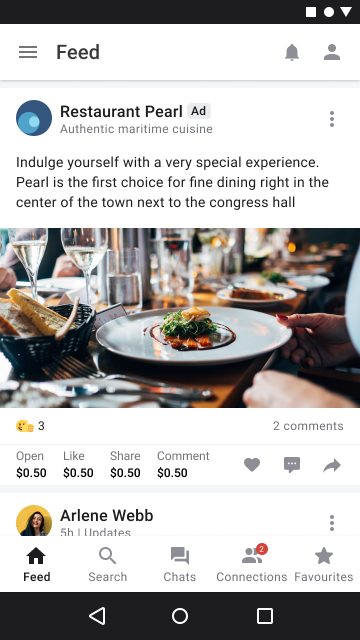 Sharing of Profiles
Users can share a profile to be shown in the feed of their followers. This creates visibility of the shared profile. Brands can compensate user for sharing a profile of a brand or even a profile of a product. Brands directly pay the users depending on their number of followers. The amount paid may depend on targeting criteria.
Open action list with available actions.

Look up price offered by brand for sharing.

Share the profile with your followers.

Immediately receive the price into your wallet.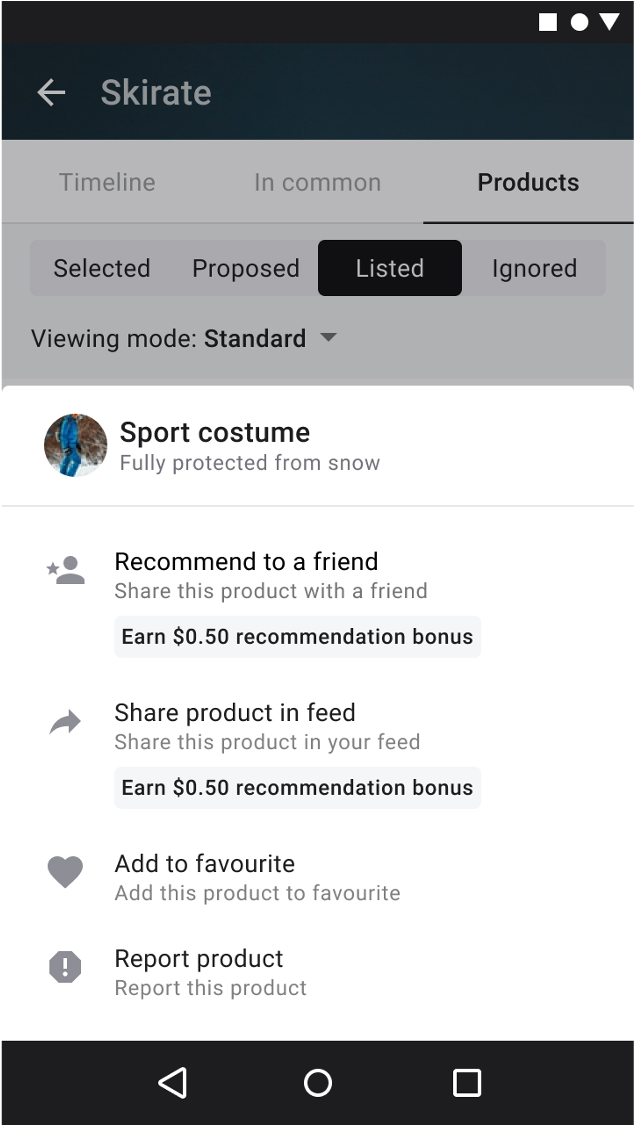 Favoring a Profile
Brands pay for visibility. By adding a brand profile or another profile to your favorites, you create visibility for that brand, since your friends can look up your profile and explore your favorite profiles. Therefore, brands may offer you a price to list their profile in your favorites. Such price may depend on the number of followers.
Open action list with available actions.

Look up price offered by brand for favoring.

Add a profile to your favorites.

Receive a monthly income for favoring.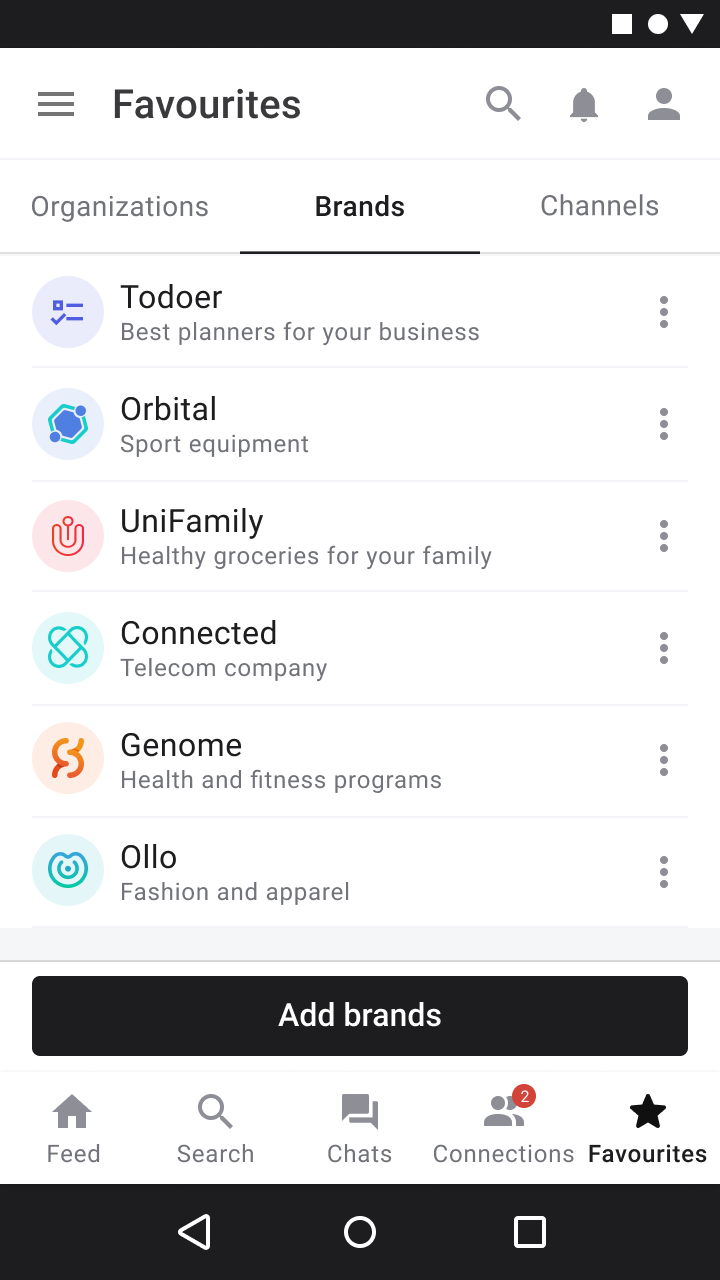 Recommending
Recommending to a friend has a stronger impact that any promotion campaign of a brand. Brands may pay you by their targeting criteria for such recommendations. However, you can only recommend to confirmed connections. It is up to you not to overload your friends with recommendations as the might disconnect you.
Open action list with available actions.

Look up price offered by brand for recommending.

Recommend to a friend with a personal note.

Immediately receive a payment in your wallet.